Joined

Nov 25, 2018
Messages

4
Reaction score

1
Good afternoon.
I have an Anafi, with 1 month of use (have few flights) and regularly make a visual inspection in order to avoid problems.
At the last inspection I noticed a small crack in one of Anafi's arm. Apparently the ink seems to pop. I gently shook the drone's arm by the engine, where the paint was cracked and nothing unusual I noticed.
I must say that I did not have any fall or accident with the drone. That supposed "popping" appeared out of nowhere.
Should I be worried?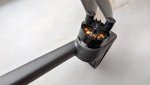 I contacted the parrot and exposed the subject with photos. Let's see what they tell me.
Sorry my English
Last edited: