I've had the bebop2 with (skycontroller 1) for about a month now. Like most products, there's good and bad. I figured I'd list what I've found in sort of a "mini-review". These are only my experiences with it, YMMV.
The Good:
1. Price. I got it on clearance at a local store, mostly because Canada has introduced pilot licensing and registration for drones (1 jun 2019) and stores are trying to dump stock (kijiji is pretty busy with people unloading used drones too it seems) that's not at least certified for "advanced" use.
2. Fun. Switched to "sport" mode, this little bugger will move! ...
AND
, it's also very nimble! Great fun to whip it around.
3. Flight time. Anywhere between 20 and 30 minutes, depending on what type of flying you are doing. More than enough time for the messing about I like to do.
4. Auto flight. Auto takeoff and landing make getting on/off the ground a snap for even a novice. Flight stabilization makes flying pretty much a simple "point and shoot" exercise.
5. Remote control. I have yet to experience any issues with control-ability due to loss of signal. I do, however, mostly use the skycontroller 1 all the time, fly in fairly clear areas and don't venture overly far away. Don't think I've even been more than 1/2 Km away yet....
6. FPV. Great fun! But, I don't use the Parrot FPV googles. I've got a set of Yuneec Skyview googles that connects directly to the Skycontroller 1 HDMI port. No lag time in the video, or at least so small it's not perceptible. The Skyview image is very clear, the drone camera...not so much. More on that later.
7. Motor fault sensing. If you do happen to "clip" something in flight, the OS senses it and shuts the motors down. This is both good and bad. Yes, it may save your blades, but the drone may also shut the motors off 40 feet up if you manage to clip and leaf or branch by mistake. Instead of maybe having a chance of limping it back down to the ground, it has now become a 500g rock 40 feet in the air. 500G can pick up a fair bit of velocity/inertia from 40 feet AGL at 9.8 m/s2 and the ground is usually pretty hard and unforgiving.......
Not so good:
1. Landing gear. Way too short IMHO. You can't land or take off from even a mowed grass lawn without the blades being smeared with grass stains. I bought an aftermarket set of gear that raised it up about another 2-3" and that ended the clearance problem for where I fly: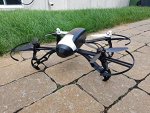 They do add a small weight penalty to the drone, so be careful if flying in sport mode and thinking it's going to stop as short as it used to. More weight = more inertia = longer stopping distances and wider turns.
2. Auto-landing. Man, this thing drops out of the sky pretty fast when you hit auto-land. So much so that I could often see the arms flex and bend and the whole rig "bounce" with ground contact. My aftermarket gear also helps here, as it has a "flex" built in that absorbs a lot of the hit and it also transfers a good deal of the loads to the base of the motor strut instead of all of the load acting on a longer lever to the body attachment points. Small difference, but important to me for longevity. Also is a bit of a "feel good" if you crash or loos power in flight; if it manages to hit the ground on the gear first, they have a chance to prevent serous damage to the drone itself.
3. No object sensing. This is what I would call a "stick and rudder" or "steam driven" aircraft. There are no safety systems other than the flight auto-stabilization. The Bebop 2 will quite happily allow you to slam it right into a wall, at full speed, from any direction, at any time. This is a bird you have to fly, on your own, every second it's airborne...
4. Blade guards. None. This is highly dependent on the operators preference, but there should be a set of blade guards in the package. That way a new user can fly with the guards until they feel confident enough to fly without (or just leave them on). This thing is in the price range of "beginner" drones, so it should have blade guards. I bought an aftermarket set and while I haven't "pranged" anything yet (that was solely operator error), I've come pretty close. The guards were worth the couple bucks I paid for them as I'm still on the original set of blades and probably will be for quite a long time to come. I'll drop them when flying in open areas for the weight savings, but they go back on if flying anywhere near trees, buildings, wires, etc.
5. Portability. Yeah, it's pretty light and fairly portable. But it's also a bit "out of step" with more modern drones, even the Anafi. The Bebop looks pretty "huge" and vulnerable compared to a folded Anafi or Mavic. The arms and blades are NOT something you can just "shove in a bag" on the Bebop and not expect it to come out undamaged. When it was first designed, sure, it was pretty small and portable compared to it's contemporaries. These days, it just seems delicate and awkward anywhere but in flight.
6. Feel/quality. Overall, It just feels......cheap. Lots of that is just trying to keep the weight down, but the end effect is it comes off feeling more in the "toy" category than the "camera drone" category. More in the "RC aircraft" slot than something you use for aerial photography.
7. Drift. This thing just never seems to lock onto a spot. It's always drifting in one direction or another if you just leave it to hover. I've always got a gps lock, both the skycontroller and Bebop 2 are calibrated, no wind and it still tries to truck off in one direction or another. A quick stab on the skcontroller stick and it stops, but will start drifting almost right away in another direction. Again, its a "stick and rudder" aircraft, you have to fly this thing every second you have it airborne. No resting during flight for you.....
(con't in next post)
Last edited: