No Longer For Sale
Parrot Anafi Thermal
Professionally used sUAS
Price: $1,200.00
Payment: Paypal Business Only, No Paypal Friends and Family
Shipping: Paid by Seller, USPS Priority Mail with Signature and Tracking, will ship within 48 hours of Paypal Funds being received
In Person Transaction available for those in the Southern NJ area, but will be conducted at the closest Police Station offering internet sales transaction areas
Aircraft Stats
53 Missions
10.46 Flight Hours
Battery Stats
1- 7.6 hours, 45 charges, 90% Capacity/Health
1- 1.9 hours, 16 charges 93% Capacity/Health
1- 3 hours, 19 charges 90% Capacity/Health
What you get:
1- Parrot Anafi Thermal sUAS (Firmware 1.8.2)
1- Skycontroller 3 (1 USB to USB C cable, 1 USB to Lightning cable)
1- Skycontroller 3 tablet holder
1- 5 port charger (1 US plug, 2 international plugs, 5 USB to USB C cables)
1 - Carry Bag
3 - Batteries (Stats Above) - Batteries have Velcro tape installed for mounting of anti-collision light
3 - Dirty J Battery terminal covers
1 - Firehouse Technology Anti-Collision light. FAA Night Operation compliant
2- Camera Lens Cover
1- Propeller Screw Tool
1- 32 GB Evo Plus SD Card
Original Box
Buyers is to ensure they understand the use cases for this sUAS. Buyer is to understand the uses and limitations of the FLIR Lepton 160x120 radiometric thermal sensor.
The sale will be final, but limited support is available to all forum members. This is in no way a promise, and sale of support, simple questions and inquires may receive responses and limited help for the buyer from myself and of course other forum members may chime in with their help.
Please fell free to ask any questions regarding this sUAS
Parrot Anafi Thermal information from the manufacturer:
Thermal-imaging camera​
Sensor: FLIR Lepton 3.5 microbolometer (radiometric)
Sensor resolution: 160x120
HFOV: 57°
Pixel pitch: 12µm
Spectral band: 8-14µm
Thermal sensitivity: <50mK (0.050°C)
Photo format: JPEG
Photo resolution: 3264x2448 (4/3)
Photo modes: Single / Time-lapse / GPS Lapse
Video format: MP4 (H264)
Video recording resolution: 1440x1080, 9fps
Precision: ±5% max.(High-gain) or ±10% max.(Low-gain)
Scene Dynamic Range: -10° to +140°C (High-gain) or -10° to +400°C (Low-gain)
Video: MP4
Imaging system​
Sensor: CMOS 1/2.4", 21MP
Video format: MP4 (H264)
HDR: 4K UHD, 2.7K et 1080p videos, JPEG photos
Photo formats: JPEG, DNG (RAW)
Photo modes: single, burst, bracketing, timer and panorama
Shutter speed: from 1 to 1/10000s
ISO: from 100 to 3200
EV compensation: [-3, +3]
Maximum video sampling rate: 100Mbps
LD-ASPH Lens​
f/2.4 aperture
Depth of focus: 26mm (35mm equivalent)
Depth of field: 1.5m to infinity
Digital zoom​
Lossless: up to x2.8 (FHD), up to x1.9 (2.7K), up to x1.4 (4K UHD)
Standard: up to x3 (all resolutions)
Photo resolution​
Wide angle: 21MP (5344x4016) / 4:3 / 84° HFOV
Rectilinear: 16MP (4608x3456) / 4:3 / 75.5° HFOV
Video resolution​
4K Cinema (4096x2160 24fps)
4K UHD (3840x2160 24/25/30fps)
FHD (1920x1080 24/25/30/48/50/60fps)
HD (1280x720 48/50/60fps)
HFOV video: 69°
ANAFI Thermal drone​
Size folded: 218x69x64mm
Size unfolded: 242x315x64mm
Weight: 315 g
Maximum transmission distance: 4km with the Parrot Skycontroller 3
Maximum flight time: 26min
Maximum horizontal speed: 34mph
Maximum vertical speed: 4m/s
Maximum wind resistance: 31mph
Maximum working altitude: 4,500m above sea level
Operating temperature: from -10°C to 40°C
GNSS: GPS + GLONASS
Barometer and magnetometer
Vertical camera and ultrasound sensor
2x6-axis IMU
2x3-axes accelerometer
2x3-axes gyroscope
Smart battery​
Type: High Density Lipo (2 cells)
Battery capacity: 2700mAh
Battery life: 25 min
Charging port: USB-C
Voltage: 7.6V
Max Charging power: 26,1W
Parrot Skycontroller 3​
Folded size: 94x152x72mm
Unfolded size: 153x152x116mm
Weight: 386g
Transmission system: Wi-Fi 802.11a/b/g/n
Operating frequency: 2.4 - 5.8 GHz
Max. transmission distance.: 4km
Resolution of the video return: HD 720p
Battery capacity: 2500 mAh 3.6V
Battery life: 2h30 (Android) / 5h30 (iOS)
Compatible mobile devices: Screen size up to 10"
USB ports: USB-C (Charge), USB-A (Connection)
Shoulder bag​
Size: 300 x 220 x 135 mm
Weight: 700g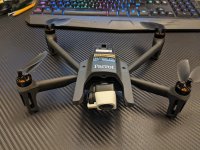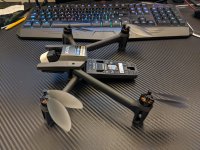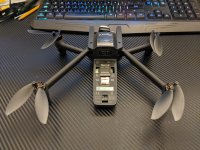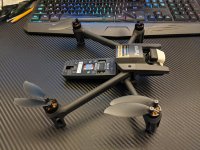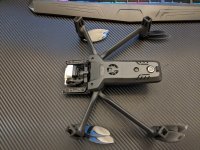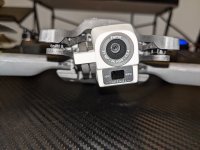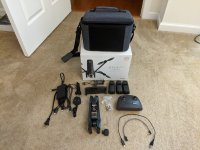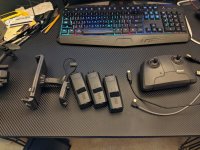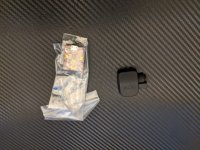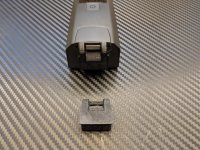 Last edited: