Joined

Aug 1, 2020
Messages

1
Reaction score

0
So I just got my Anafi, and am a new flyer so please forgive my questions if these have been answered on the forum already...
On only my 10th flight, I experienced my first crash (fall from the sky) from what looked like a rear prop coming off during the first 45 seconds after take-off (luckily only about 25 feet up).
FreeFlight 6 gave me an error that said "Motors - The engines of the drone have cut out", as drone plummeted to the asphalt.
After the crash, the screw was still firmly in place in the arm/motor, and the prop looks to have broken off at the base (see below). It damaged 2 of the other propellers.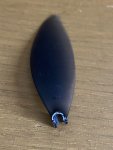 Questions:
1: How often do Anafi flyers regularly replace props?
2: What is the typical cause of this type of break?
3. FF6 ERROR MESSAGE: "Motors - The engines of the drone have cut out" - What does this error mean?
4. What are the best aftermarket backup/spare props you have had luck with?
Thank you in advance for the tips!