Joined

Dec 31, 2018
Messages

733
Reaction score

413
Location
Website
I bought some black corflute (corrugated plastic) sheet yesterday & this morning before taking my 9 month old Mastiff pup off to obedience training I made a very simple sun-shade for my iPad (9.7"). Here's a few photo's of it in operation, its only downfall is that I can only fold one side in over the centre section, as the centre is not as wide as the outer parts. A bit of an oversight there, so take note if you try this sort of thing yourself.
I have the
Dirty J
Anafi Large Tablet Adapter with kicker & the power block, so had to design something that could work around them whilst having some structural integrity to it, so after some experimenting with corrugated cardboard initially I settled on this really simple design with no tape or velcro needed.
So, here is my simple effort, with the iPad in place. It's basically just a long rectangle cut through on one side at two points for folding into a U shape & has two tight fitting slits cut in the bottom of the two outer sections that the iPad slides through.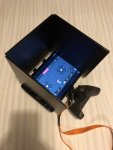 Here you can see one corner of the iPad placed in one of the lower slits.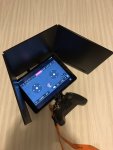 With the iPad removed from it now.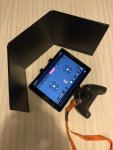 Now with the iPad removed from the Dirty J Anafi Large Tablet Holder.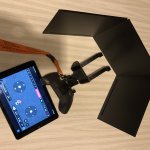 This is the sun-shade laid out on the table, so you can see that only the slits for the iPad are cut all the way through. The two cuts for the folds are just through one side only. If you did accidentally cut right through I guess you could always tape it together, but I don't think it would then have the same structural integrity to it.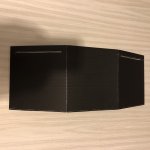 Here is a close up of the slit for the iPad to slide into. My iPad is 5mm thick, so I cut the slit about 4.5mm, so it's a nice snug fit.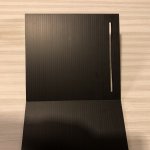 Next up, I'll make one for my iPhone 8 Plus, but I'll see if there's a way I can get it to be able to fold down on itself properly, instead of just one of the outer sections only being able to fold into the centre.
Last edited: