Joined

Oct 21, 2018
Messages

8
Reaction score

8
Location
I am extremely careful every time I launch my Anafi and I usually do a hand launch to prevent dust in the grown to get into the drone. I have more than 150 flights and never had any issues piloting the drone or even near misses.
Yesterday evening, I wanted to film the sunset in my hometown, and after initializing the FreeFlight app, the controller and the Anafi, checked and double checked everything, I tried to hand launch (as usual) but as soon as I let go of the Anafi, it immediately rolled over to the right and crashed violently on the ground a few meters away. It broke its rear left leg, lost the memory card cover, the battery is also damaged (I'm yet to see if the camera gimbal or anything else was damaged). I am sure I did everything right before launching it in the air.
In conclusion, I believe my Anafi is dead.
I've had a very bad experience with Parrot products and with their custom support in the recent past.
My question is, do you thing I should bother and try to get a replacement drone from Parrot? I know it had to be some technical failure with the Anafi, but I'm so frustrated by the past issues I had with Parrot, right now I'm feeling like I will pass all the process of trying to get a new drone and loose all the money I invested in it, including 2 extra batteries and a few more items.
Thanks for your comments and support.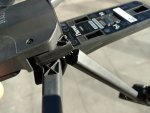 Last edited: