Joined

Dec 31, 2018
Messages

733
Reaction score

413
Location
Website
During the flight in these images, for the yellow coloured portion of it the Anafi had a major brain-fart & disconnected from FF6 totally at around about 400 metres distance from me. The video was cracking up & disappearing from about 300 metres away from me & there was nothing between me & it to interfere with the signal.
This is the first time it has happened to me, I have had video disconnect at around about 400 metres from me, with nothing between me & the Anafi & no EMF interference either. In fact, during this flight I crossed an electric train track with the train going past & there was no interference from it at about 40 metres away from it.
It's rather disconcerting having to close & restart the FF6 app, while the Anafi is off in the distance doing who knows what. Looking at the video & data for the flight, it stopped flying for that duration at the 5 minute mark.
Any ideas why the Anafi would just totally disconnect from the FF6 app? It wasn't an issue with the iPad & I always have it on Aeroplane mode as it's just used for flying the Anafi.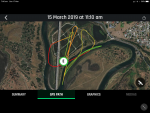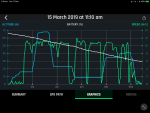 Last edited: