Hey guys,
So I have a problem with a Anafi that is out of warranty. I can find some people that have had this issue but it is always solved by replacing the drone through Parrot.
That unfortunately will not work in my case.
The issue I am having is corruption/artifacts in the image: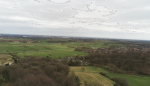 First suspect for me is the imaging sensor, which on its own is pretty much impossible to exchange.
I understand that the camera module and mainboard are married in a way where you cannot swap one without the other, that complicated things a bit.
Does anybody have some solid advise? I have decent skills in electronics and soldering, replacing basic parts when needed shouldn't be a problem.
Before I buy some salvaged parts I would like to know what the chances of success are
Thanks in advance!