Joined

Jul 27, 2018
Messages

941
Reaction score

391
Age

63
Location
One of the questions I posted to the VP @ Parrot (At several users request), was around the flight data. The questions were around:
data is lost if the flight is not completed, through either fly away or dunking
Option to provide better options for the recovery of data in the even of the above happening.
The response I got back yesterday, and I have changed nothing, is exactly:
On the flight logs, firstly any data is only ever shared with Parrot if the user chooses in line with the stringent GDPR. It is correct that the full flight data are uploaded from the Anafi to the smartphone device at the end of the flight. That's why in case the Anafi gets lost there's no way to recover the full flight data. Note this is true only when the Anafi gets lost. If the Anafi crashes but can be recovered and connected again to the device, then the flight logs are also recovered.


However, we do have a limited amount of data that is continuously transferred from the Anafi to the device during the flight. Those data are always available (even if the Anafi gets lost).Those data's should be used by Parrot support team to investigate fly-aways, but of course there is a prerequisite: the user must have agreed to share their data. For users who don't agree to share their data, we cannot provide any analysis or outcome. This data (right now) is not available for the users themselves as there's no way to open & look into the file on the smartphone device.


You are right, that my support team should not keep asking for flight logs when the Anafi has been lost, I take this point to improve our processes, I am making a full review of flight data vs. scenario's
So for me the interesting one is where he states that data is continuously transferred from Anafi to the device during flight. And the fact that is available to them IF we agree to share.

I know personally I have the option in FF6 to share, enabled. So if they know about this, and have access, why do they continually and repeatedly ask for data? That will certainly be the next question to them.

I suspect many of us have automatically selected to share the data with Parrot when we setup FF6. Unfortunately I dont have my FF6 at hand so cannot screenshot that section.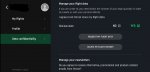 managed to grab a screenshot of the relevant area
Last edited: