Hello guys. I just wanted you to help me. I bought Anafi 3 days ago. Made like a total of 10 minutes flying. Today I went to fly again, controller had 80% battery and Anafi 95%. I was just pushing it up, Anafi was 10m from the ground and it simply crashed. No error showed on cellphone screen, it just stopped, flipped and crash. I spent 5months saving money for this drone, and I really wanted you to help me, and tell me what I can do, it has 2 legs broken, and the plastic around the camera is broken aswell.
Please, Please help me, what should I do ?
Is there any file in app, that can show flight details ?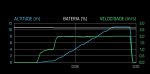 Last edited: