Ask for help.
The HDR mode of PArrot Anafi exists only nominally. Practical use of this mode does not make sense, since the result is always disgusting. This is due to the automatic WB, which constantly changes along with the change of the scene. Since the drone is not a static camera and most often it moves when shooting, the scene changes constantly, and the WB changes along with the scene.
One example. The interval between frames is 15(!) seconds: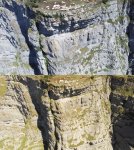 Within 1 minute of the flight, the color temperature changed radically 7 times! So, HDR is kind of there, but you never want to use it.
Parrot programmers don't understand that changing the white balance in video is unacceptable or pretend that they don't understand. They told me that this is a "property of the matrix". If I didn't know how the matrix works, I would accept this answer but I know it and I understand that either the qualification of "programmers" is terribly low, or their attitude to customers is arrogant and contemptuous. So, in any case I do not want to communicate with them anymore, and, moreover, I will never buy their product again.
However, I would still like to use a drone that I have it already purchased.
Without HDR mode, the dynamic range of the Anafi camera is worse than in my smartphone. Correcting curves allow to correct the image but this leads to noise in the shadows.
When shooting architecture, these noises often appear in the center of the frame, which leads to spoiling the entire episode.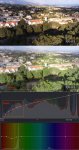 comparWBnoise.mp4
(16MB)
Please, share your experience!
When processing Anafi videos what correction methods do you use?
Is it possible to draw shadows without noise in this situation, or selectively remove it in Davinci Resolve?